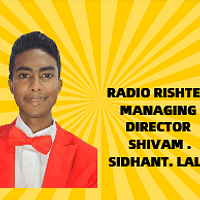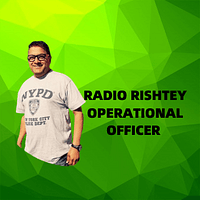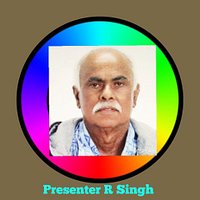 Like and follow our Facebook page today
Radio Rishtey is sponsored by businesses, and religious and community organizations. Radio Rishtey provides opportunities to businesses to market their products and services by advertising through our radio roadshow , on airwaves and on social media. Existing sponsors of Radio Rishtey are Ranas Fashion World , X - dezina Style , Classic Music and video center and Namara Hindu Temple .
Ramendra singh is one of the inspiring and motivating personality in radio rishtey team. He is the mentor of radio rishtey promoting youth talent reaching out to the public and joinning hands with community supporting each and everyone .His message to thepublic is to continue supporting radio rishtey to higher heights . Bring joy and happiness to public.
PROGRAMS CODINATOR/ OPERATIONAL OFFICER
Radio Rishtey operational manager is one of the professional and creative person in Radio Industry. He always bring innovative ideas on Radio Rishtey platform. His passion is to promote the talents. In addittion,
Radio Rishtey Managing Director Shivam sidhant lal is one of the most professional and multitalented person with heaps of listeners poularity Joinning community together bringing the program for youth and the nation .Current student of Labasa Sangam (SKM) college . His passion is to promote youth talent the by the medium of radio . In addition Mr shivam Sidhant lal has become the global sensation in year 2017 by the support of its listeners . Etablishing Radio Rishtey in 2016 was a dream came true we reach out to families communities to bring smile
Install our App today from your play store and app sotroe type radio rishtey Fiji
WELCOME TO RADIO RISHTEY
ADVERTISE YOUR BUSINESS TODAY WITH RADIO RISHTEY !1
NUMBER ONE HINDI RADIO STATION!!!
11
RADIO RISHTEY FIJI WEBSITE
RADIO RISHTEYS MISSION IS TO PROMOTE YOUTH TALENT
24/7 ONLINE HINDI RADIO STATION WORLD WIDE
TO LISTEN YOUR BEST OF BEST PROGRAMS BY ALL OUR DYNAMIC HOST
RADIO RISHTEY PROGRAMS
MORNING BHAJAN - 8AM TO 10AM
SUBAH KI BELA PROGRAM - 10AM TO 12PM
RISHTEY SANSAR - 12PM TO 4PM
BHETREEN MEHEFIL - 4PM TO 8PM
CHANDANI KI RAAT- 8PM TO 10PM
RADIO RISHTEY THE HEART OF ALL COMMUNITY
SIMPLY THE BEST!!
Subscirbe Our radio Rishtey youtube channel and vieew our hd business promos and rishtey events promos
Radio Rishtey Fiji - Aap ka Parivaar is a 24/7 online Hindi radio station available to our listeners 24/7 all over the world on TuneIn.com, streema.com, Apple devices -iPhones, iPads, iPods; android devices - Samsung, blackberry, windows phones and also via live broadcasts on Facebook and YouTube channel. Being Labasa, Fiji's only Hindi radio, our mission is to promote youth talent and serve communities.we broadcast variety of radio programs ranging from Bollywood updates and songs, current affairs, sports, culture, religion and health to best serve our listeners and viewers . Radio Rishtey has been serving our fans for the past two years .We also participate as media partner with community and religious organisations for their special projects and services Some of these major media partnerships we have undertaken in the past are : Youth talent promotion Multicultralism centre , Clean Up campagin with Fiji youth sanatan , Kirtan night With labasa crane truck drivers , Youth car racing promotion with Western Car race orgranisation ,Kirtan awards patnering with Fiji Sun and Promoting youth talent with VHP organisation.
DISCUSS YOUR PROJECT WITH US!